Latest News
MAM / MEDIA ART MOROCCO & DIGITAL MARRAKECH 6 / 2018-2019
Digital Marrakech 6 and The Arab media lab project launch the second edition of MAM / MEDIA ART MOROCCO : an education platform whose mission is to encourage passionate and emerging mixed media artists to innovate and use new media tools as means of self expression. The directors of the project believe in the power of collaboration with local and international experts, also , with different organisations who also believe in the special alchemy that only happens when working together toward a common purpose.
MAM-Media Art Morocco / 2nd & 3rd Edition
October-December 2018
February-May 2019
Media Arts workshops series and Master classes is a project that aims to support media art artists from Morocco, allowing them to reflect on their own works by connecting with other emerging and confirmed filmmakers and media artists from the region and international, and by discovering new ways to approach the art of media arts happenings and film making, weather from technical or theoretical point of views . Project formats are : alternative and experimental film, video art, digital mapping, net art, media installation, creative documentary, experimental music video, Vlogging…etc
Media Art Morocco empowers budding artists through connecting them with professionals to facilitate knowledge sharing and transmission. The project transforms the youth from passive to proactive individuals who think critically and create profound artistic projects which delve deeper in their society and which hopefully leads to personal transformation and social change.
The project collaborates with local and international professional mentors, who are chosen based on the quality of their theoretical and practical quality of work, their ability to adjust contemporary media art making to the local context, and their capacity of knowledge sharing.
For more information please contact us: info@arabmedialab.org , visit our website MEDIA ART MOROCCO
DIGITAL MARRAKECH 5 // 27 NOV - 17 DEC 2016
The 5th edition of DIGITAL MARRAKECH Festival / DM 5, will be held from 29 Nov to 17 Dec 2016, in several cities in Morocco

After series of Master classes and professional training workshops in the field of Media Arts, visual creation and digital cinema, which took place from January to May 2016, under the name of MAM-MEDI ART MOROCCO, The Digital Marrakech Festival will be held in Agadir and Marrakech, with a very important selection of works (experimental films, video art , creative documentary and 3D animation, 3D mapping...) , with the latest creations from The Arab world and international, and a special focus AFRICA

There will also be a screening of the films produced by young filmmakers and artists during the MAM-MEDIA ART MOROCCO workshops (January-May 2016).
Venues:

29-30 November 2016 >> Ibn zohr University, Agadir
10 December 2016 >> ENSA de Marrakech
03-17 December >> Galerie Rê, Marrakech
With the participation of national and international artists:
Abdelaziz Taleb, Ayoub Qanir, Simo Ezouberiri, Soudade Kaadan, Teddy Goitom, Benjamin Taft, Alex Pearl, Annabel Dover, Carla Gannis, Frederico Evaristo, Halida Boughriet, Irina Gabiani, Joas Nebe, John Sanborn, David Oppenheimer, hyung suk lee, VG. Venugopal, Ezra Wube, Recep Akar, Eli Squaiby, Jac Min...
Full Activities Program

To consult the full Program    PDF
The 5th EDITION FESTIVAL DIGITAL MARRAKECH 2016

The 5th Edition of DIGITAL MARRAKECH Festival will be a Series of Workshops and Master classes in different cities around Morocco from JAN - MAY 2016 /
For more informations, Submission and program, please visit the following links
DIGITAL MARRAKECH FESTIVAL 4TH EDITION 2014
4th edition is from 28-30 Nov. 2014
Opening Night the 28th Nov. 2014 / 17h00 pm / CENTRE CULTUREL ATLAS GOLF 1, route d'Amizmiz Marrakech 40000 Morocco
Full program and information can be downloaded HERE

Teaser of the 4Th edition 2014
The Audio spot in collaboration with our Media partner HITRADIO
DIGITAL MARRAKECH BEST OF 2014 IN FESTIVAL D'ART VIDEO DE CASABLANCA 20th EDITION 2014
We are happy to announce that DIGITAL MARRAKECH BEST OF Program will open The 20th Edition of Casablanca´s International Video Art Festival / The 22 April- 16h15 / Théâtre de Abdellah Laroui / Faculté des lettres et des sciences humaines Ben M'sik, With Participation of:
Abdelaziz Taleb (Maroc), Damien Seck (France), Sama ALSHAIBI (Iraq-Etats Unies) , Til NOWAK (Allemagne), Tim BOLLINGER (Allemagne), Naji ABU NOWAR (Jordanie) , Michelle MEDINA (Morocco, Etats Unis), Islam ABDELKADER (Egypte), Abdellatif BENFAIDOUL (Maroc), KOGONADA (Etats-Unis)
Le 22 April- 16h15 / Théâtre de Abdellah Laroui /
From the 22nd au 26th april 2014, the 20th edition of International Video art Festival in Casablanca. Organised this year around the subject « vidéo Art, New visions », this event has a goal to develop the visuel art and mutlimedia. During the festival's days, workshops, seminars et meetings will be organized. Projection of 2d and 3D films and documentary films. A tribute to the American Artist BILL VIOLA as one of the Video art pioner.
Here is the program of the DIGITAL MARRAKECH BEST OF 2014 during the 20th edition Casablanca´s International Video Art Festival from 22 unti 26 April 2014.

For full programhttp://www.fiav.ma
FESTIVAL DIGITAL MARRAKECH ON TOUR
>> Now & After'14 Invited By Agricola De Cologne International Festival / Global Art & Moving Images Awards
Curated By: Abdelaziz Taleb and Abdellatif Benfaidoul
Artists
- Simo Ezoubeiri, Morocco, Inner Marrakech, 5:00, 2012
- Mariam Agha, Lebanon, Beirut, the moon has a secret, 6:30, 2010
- Jackie Salloum , Palestine, Planet of the Arabs, , 9:00, 2005
- Naji Abu Nowar, Jordan, Death of a Boxer, 14:00,2010
- Michelle Medina, Morocco, Portrait of Khmissa (Water ), 9:00, 2009
MASTER CLASS STEADICAM VOLUME II
MASTER CLASS & TRAINING ON STEADICAM / 28-29 MAY / AT CENTRE CULTUREL ATLAS GOLF MARRAKECH

Trainer : Benjamin Fatras, One of the best Steadicam operator in France and member of the de API CORP gency.
http://agenceapicorp.com/steadycam-camera-operator/benjamin-fatras
http://www.benjaminfatras.com/
For any futher inforamtion, please contact US:
info@digitalmarrakech.org / Tel: 0600278227
For registration please fill in the following form and send it as soon as possbile, LIMITED PLACES
info@digitalmarrakech.org
FORMULAIRE D'INSCRIPTION/

overview the volume I
Arab Media Lab database on VisualcontainerTV
From 5 April to 7 May 2013 / Du 5 Avril au 7 May, ARAB MEDIA LAB PROJECT & DIGITAL MARRAKECH VIDEO COMPILATION ( BEST OF ARAB SHORTS ) ON/ SUR VisualcontainerTV - International Videoart Web Channel
For more information and to watch the compilation, please check VisualcontainerTV
Feburary MASTER CLASS / Steadicam VOLUME I
MASTER CLASS AND TRAINING Steadicam / 24-25 and February 2013 at the Cultural Center Atlas Golf Marrakech
This Master Class is for cameramen and op.s leaders, students and all persons interested in this technology, who have no experience with the steadicam and wish to take advantage of the possiblities the steadicam can offer.
This master calss will be supervised by the director and cinematographer AHMED BAIDOU known for his film "AGHRABOU" Best Film Award at the International Festival of Agadir in 2012. the official competition at the 14th National Film Festival of Tangier.
Ahmed BAIDOU's works watch Here More here For Registration, assessment and information (Limited places), please send an e mail to: info@digitalmarrakech.org
NEWS / DIGITAL MARRAKECH # 3 From the 6th till the 8th December 2012
The 2nd edition of Digital Marrakech, the international Festival of video Art, Multimedia Performances, 3D Mapping, animation and Digital Cinema, was held from the 6th till the 8th of December 2012.
At CENTRE CULTUREL ATLAS GOLF MARRAKECH
Km 1 route d'Amzmiz - Marrakech
www.centreculturelmarrakech.com
Full Activities Program


To consult the full Program ( French Only )    PDF
During the Digital Marrakech 3, There will be a SOUND DESIGN master class animted by the German film-maker and Sound Designer Michael Fakesch

NEWS / Digital cinema WORKSHOP SERIES # 3: STOP MOTION TECHNIQUE
In collaboration with Graphic and Media Design departement at ESAV ( école supérieure des arts visuels, marrakech), the 3rd serie Digital cinema workshop took place from the 9th until the 14th April 2012 . The focus was the Stop Motion Techniques animted by the German filmmaker Rouven BLANKENFELD
NEWS /       MASTER CLASS / DSLR WORKSHOP SERIES: Canon 5D MARK II et 7D serie # 2
The 2nd workshop was from 20 to 25 Februray 2012 and around the ability of Canon 5D Mark II and 7D to produce work in full HD.
The German Filmmaker Rouven BLANKENFELD lead this 2nd workshop. Participants had the opportunity to learn the digital cinema, HD feature and documentary film productions that are exemplary of current digital best practice. The Masterclass took place at RYAD YIMA-MARRAKECH, MOROCCO. Many short films were produced by the participants during the 5 days workshop.
For more information, please check the DSLR workshop serie # 1 DSLR WORKSHOP SERIE # 1
NEWS                              DIGITAL MARRAKECH Edition 2
The 2nd edition of the international festival DIGITAL MARRAKECH is taking place from 9 until 11 December 2011 in Marrakech city, especially in its imperial part which is the old medina.
LOCATION:

A RIAD EL FENN
Derb Moullay Abdullah Ben Hezzian
Bab El Ksour
Medina Marrakech , Maroc

Dates: from 09 until 11 December 2011
---------------------------------------------------------------------------
The opening Night will be in the 9th of december starting: 18h30, in RIAD EL FENN


---------------------------------------------------------------------------
For complete Event program (Only French Version)    PDF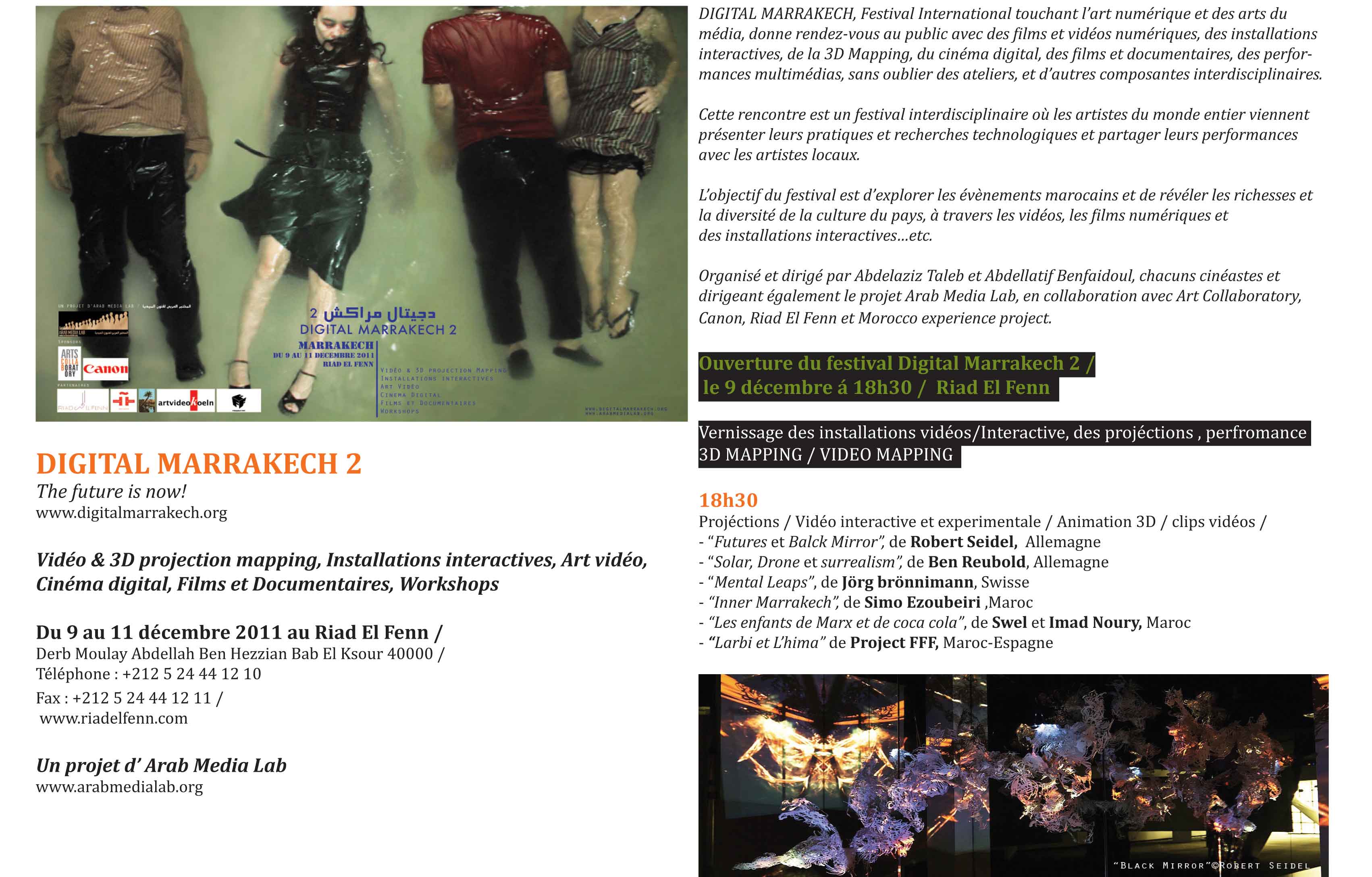 This annual Event of digital and media arts presents diverse trends and practices in the fields of digital film & video, multimedia performances, Video installations, 3D projection mapping, digital cinema, films and documentaries, workshops, interdisciplinary and other components.
This meeting is an interdisciplinary festival where artists from all over the world present the latest practices, research, technologies and showcase important achievements in the development of media arts practices. The aim of the festival is to explore the Moroccan events and reveal the richness and diversity of the country's culture through videos, digital films and moving images.
This innovative project is organized by ARAB MEDIA LAB
The participanting Artists in DIGITAL MARRAKECH 2:

* Morocco:
Swel& Imad Noury, Ahmed Bouaani, Mohamed Ezoubeiri, Michelle Medina, Abdelaziz Taleb, Abdellatif Benfaidoul...
* Internationals:
- Robert Sedeil, Agricola de cologne, sandeep Mehta, ben Reubold, Dirk Rauscher ( Germany )
- Zineb Sedira ( Algeria )
- Nadia & Laila Hotait, Mariam Agha ( Lebanon )
- Alae Younes ( Jordan )
- Jörg Brönnimann (Switzerland )
- Oliver Laxe (Spain )
- Project FFF ( Morocco- Spain)
- Jean Michel Verbeeck ( Belgium )
- Alex Fischer & Ellis Bahl / Space vs Earth( USA)
- Sebastian Diaz Morales ( Argentina)
The 6th EDITION FESTIVAL DIGITAL MARRAKECH / 2018 -2019
The 5th ÉDITION FESTIVAL DIGITAL MARRAKECH / 29-17 DEC 2016
The 5th ÉDITION FESTIVAL DIGITAL MARRAKECH 2016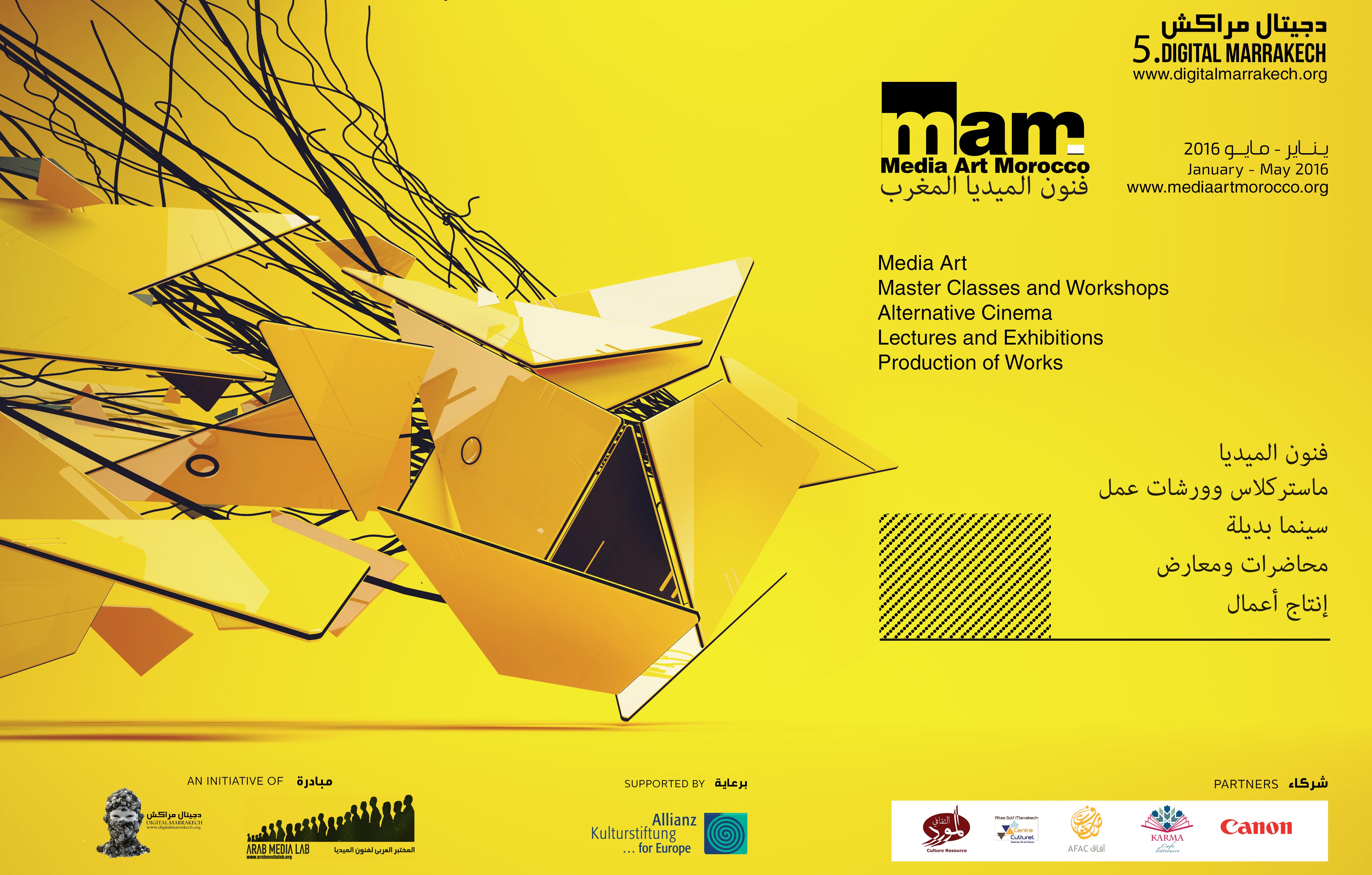 DIGITAL MARRAKECH FESTIVAL 4TH EDITION 2014
DIGITAL MARRAKECH BEST OF 2014 IN FESTIVAL D'ART VIDEO DE CASABLANCA 20th EDITION 2014
FESTIVAL DIGITAL MARRAKECH ON TOUR
MASTER CLASS STEADICAM VOLUME II
Arab Media Lab database on VisualcontainerTV
February MASTER CLASS / STEADICAM VOLUME I
DIGITAL MARRAKECH EDITION 3 overview gallery
Digital Marrakech 3 / Edition TRAILER /

some of the produced works

some of the produced works

Trailer Edition 2
TEASERS of some selected works to be seen during the DIGITAL MARRAKECH 2

"Les enfants de Marx et Coca-Cola" By Swel & Imad Noury/ (Morocco)

"SOLAR" By Ben Reubold (Germany)

"L'ARBI" By Project FFF (Morocco-Spain)